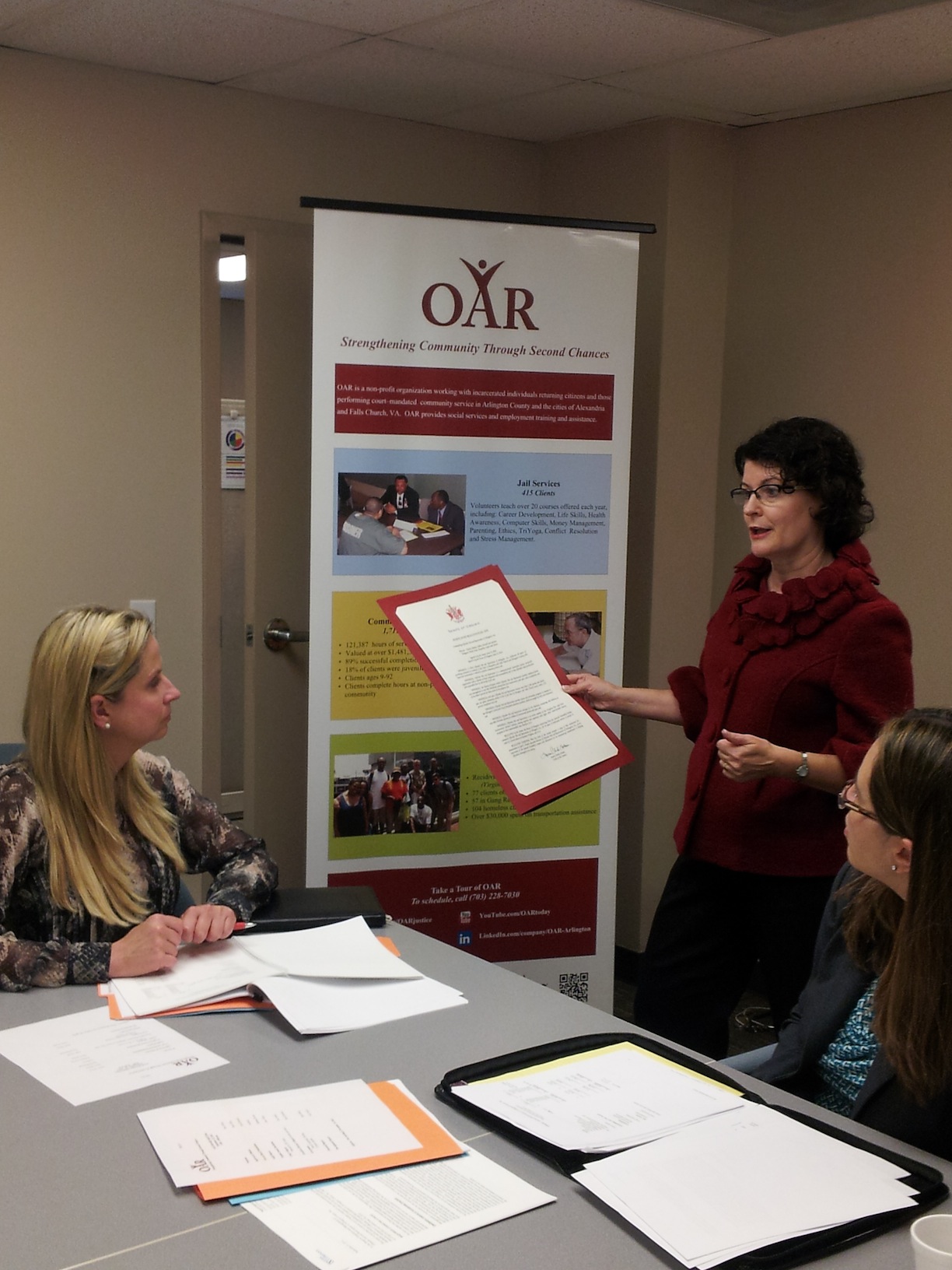 Senator Barbara Favola Presents
State Senate Resolution to OAR
For 40th Anniversary
Tuesday, September 23, Senator Barbara Favola presented the Board of Offender Aid and Restoration (OAR), a copy of a State Senate Resolution, dated June 12, 2014, in honor of OAR's 40th Anniversary.
"WHEREAS, in 2014, Offender Aid and Restoration of Arlington, Inc., celebrates 40 years of providing assistance to residents of the Cities of Alexandria and Falls Church   and Arlington County who have been incarcerated or ordered to perform community service; and
. . .
RESOLVED by the Senate, the House of Delegates concurring, that the General Assembly hereby commend Offender Aid and Restoration of Arlington, Inc, for 40 years    of dedicated service to people in need of a second chance in Northern Virginia; and be it
RESOLVED FURTHER, that the Clerk of the Senate prepare a copy of this resolution…as an expression of the General Assembly's respect and admiration for its unwavering commitment to helping offenders reintegrate into society. "
"What a wonderful surprise," said Dave Wiley, Chair of the OAR Board. "We are truly honored that Senator Favola took it upon herself to submit this resolution to the State Senate, and that she presented it personally to the OAR Board."
Last year, OAR provided assistance to 622 individuals returning home from incarceration. OAR volunteers taught 415 clients inside the Arlington County Detention Facility. And OAR oversaw 1,717 court-mandated community service clients.