A Message From OAR's Executive Director
Greetings,
Is the holiday season your favorite time of year? Do you love spending time with your loved ones and celebrating with food and gifts? Many children of parents who are incarcerated are not fortunate enough to have that opportunity. When a parent is absent, families stretch their budgets and make sacrifices all year long, but especially during the holiday season.
That was going to be the case for Mary and her four grandchildren John, Ana, James, and Charlotte, until you came along. Mary has been the guardian of her grandchildren since their dad, Mary's son, was incarcerated. Thanks to your faithful support, Mary's son connected with OAR. He participated in wellness and personal growth programs, worked with licensed clinicians for group therapy, attended an evidence-based fatherhood group, took part in a workforce development program, and received intensive case management to prepare him for a safe reentry. All of which was made possible by you.
Your generosity also allowed him to participate in OAR's Project Winter Cheer, so John, Ana, James, and Charlotte received gifts during this holiday season. Mary was so emotional when we reached out to her to let her know gifts for her grandchildren were coming her way. She told us that these presents were going to be the only ones her grandchildren would receive this year. This resilient grandmother cried tears of joy as she felt such a huge weight lift off her shoulders. You made that happen.
You have been there at every step of the journey for Mary's son and his family. Please consider a special gift today to ensure that as the new decade begins in 2020, you are on the journey with the 2,100 courageous individuals who will come through our doors as well as being a beacon of justice. You can click here to give online on our website.
Sincerely,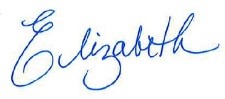 Elizabeth Jones Valderrama, MA, CVA
Executive Director
P.S. Please give your most generous gift to help provide a safe reentry and family reunification services for Mary's son and all of the other 2,100 sons and daughters in this community. You can give online on our website here.