Arlington Turkey Trot 2022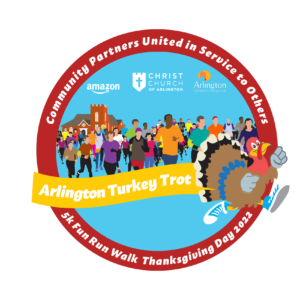 The 2022 17th Annual Arlington Turkey Trot 5k Fun Run will take place this year on Thanksgiving morning, Thursday, November 24, 2022 at 8:00am (EST). Please make sure to follow any health and safety measures taken to ensure comfort and safety.
The Arlington Turkey Trot is hosted by the Christ Church of Arlington and OAR is thankful to be one of the beneficiary organizations along with the Arlington Food Assistance Center (AFAC), PathForward, Arlington Thrive, Bridges to Independence, Young Life South Arlington, and many more. Your registration will help to support OAR's mission. Registration for the Arlington Turkey Trot is live now! Click here to visit the official Arlington Turkey Trot website to register and for more details.
If you would like to be a volunteer for the Arlington Turkey Trot on OAR's behalf, please email Stephannie Ku at sku@oaronline.org.