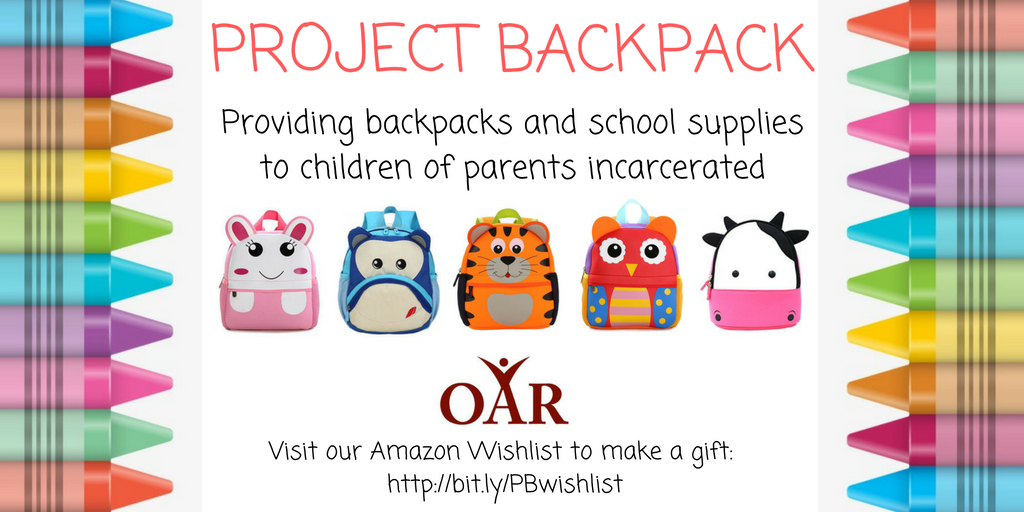 OAR is introducing a new back-to-school program called "Project Backpack." This program, like Project Christmas Angel, will directly impact children who have a parent incarcerated locally by providing new backpacks and school supplies for the 2018-2019 school year and for children under the age of five we will be providing age-appropriate books.  Many children with a parent experiencing incarceration live in poverty and cannot afford these critical supplies for school.  This program also offers another way for parents who are incarcerated to connect with their child(ren). Each backpack will include a handwritten note from the parent incarcerated, letting the child know that they are not forgotten.
Here's how you can help:
Donate a new backpack and school supplies! Donations can be made through our Amazon Wishlist and mailed directly to our office (1400 N. Uhle St., Suite 704, Arlington, VA 22201) or visit any of the Project Backpack donation box locations set up at businesses, faith communities, and civic organizations throughout the community! (See below for a list of donation box sites)
Host a donation box! We are seeking sites (such as businesses, apartment complexes, community centers, etc.) to host additional donation boxes to help us collect items.  If you would like to host a box, or if you know of a business we should connect with, please let us know.  We will provide all the materials you need!
Make a financial contribution! We are in need of funds to make this program a reality.  Funding helps pay for things like mailing the gifts to children who don't live within our delivery area.  Donations can be made on our website. Please list "Project Backpack" in the Comments section.
Donate books and gift cards! We will be collecting books and gift cards to give to children under the age of 5. Gift cards from Target and Amazon are appreciated!
Volunteer! We won't be hosting a big wrapping party event like Project Christmas Angel, but you can volunteer your time to support this program in other ways.  Volunteers are needed throughout July to help call guardians of the children to confirm delivery information and for other administrative support of the program.  This can be arranged during OAR's business hours or on weekday evenings.  Contact Anne Breville at abreville@oaronline.org for more information about volunteering.
Locations of Donation Boxes:
Advantage Trainers, 450 W Broad St, Ste #202, Falls Church, VA 22046
Arlington County Sheriff's Office, 1425 N Courthouse Rd # 9100, Arlington, VA 22201
Christ Church of Arlington, 3020 N Pershing Dr, Arlington, VA 22201
Eagle Hill Consulting, 241 18th St S #615, Arlington, VA 22202
Madison Community Center, 3829 N. Stafford St, Arlington, VA 22207
Pure Barre (Pentagon City), 12th St S, Arlington, VA 22202
Segue Technologies, 2300 Wilson Blvd #420, Arlington, VA 22201
Walter Reed Community Center, 2909 16th St S, Arlington, VA 22204
You are directly supporting children and families through your support of Project Backpack.  We could not do this without you!  Please help us spread the word about this program.